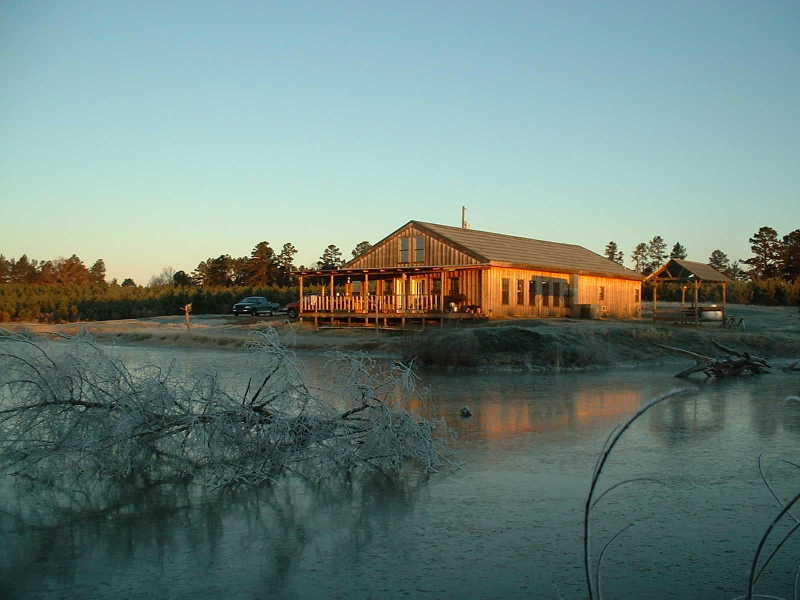 Reserve the Cedar Hill Outfitters Lodge Today For Your Own Private Adventure
Come and stay in our beautiful lodge here at Cedar Hill Outfitters. You can reserve the lodge for family/friends, "get-togethers", business meetings, church groups, or other functions in the off season (Feb thru August).
The lodge has 4 bedrooms (each with its own bathroom with sink and shower, window, and climate controls), a Great Hall with a superb view over the lake, an oversized kitchen with bar, and a multi-purpose loft with beds, futon, and TV/VCR. A large covered porch surrounds over half the perimeter of the lodge, great for socializing and relaxing. The lodge can comfortably sleep 15 people. Lodge amenities include gas-logs, two TVs, DVD Player and VCR, satellite, VHS and DVD video library (100+ movies), stereo system, fishing reels, grill house with gas and charcoal grills, dartboard, washer/dryer in laundry room, full-size refrigerator with icemaker, microwave, oven and top range, coffee maker, and covered four-wheeler parking. All linens and towels are included. Non-smoking facility and No pets are allowed.
Cedar Hill Outfitters is loaded with miles of four-wheeler trails through rolling hills, across creeks, and by beautiful ponds. Our trails are perfect for those who love to ride and explore, so strap down your cooler and prepare for the ultimate riding experience.
The lodge rental is $125 per day with a 3-day minimum stay. Please call for more information.
A 50% non-refundable deposit is required to make any reservations. Balance of payment due upon arrival.

By Snail Mail:
Carl Johnson
P.O. Box 415
Ackerman, MS 39735

By Phone:
Office: (662) 285-6601
Home: (662) 285-6713
Fax: (662) 285-2136
By Email: